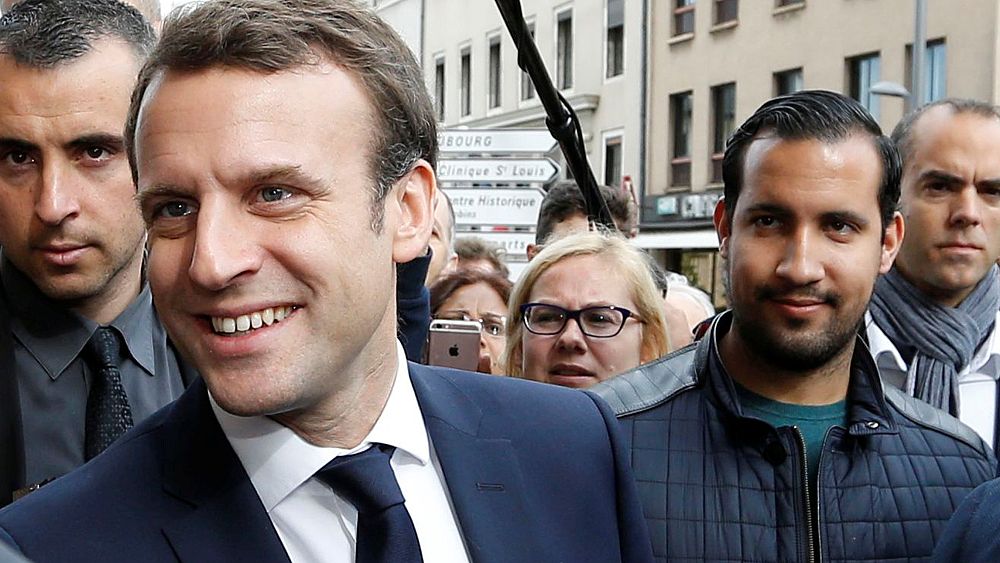 French President Emmanuel Macron has found himself in a deepening crisis as one of his senior aides is to be dismissed from his post after a French newspaper identified him as the suspect attacking protesters during a May Day rally. Police are now questioning the security aide, Alexandre Benalla, over the footage.
Benalla was filmed hitting a man and violently dragging a woman at a May Day protest while wearing police insignia, a
Le Monde investigation
revealed last week.
Euronews looks into why the Benalla scandal is particularly controversial for Macron, who had promised France an "exemplary" presidency.
Is Macron's inner-circle above the law?
"Were there any maneuvers to cover this up? People in Macron's entourage believe they're above the law."
Those were the words of the president of the centre-right party Les Republicains, Laurent Wauquiez, after Le Monde reported last week that Macron and his inner circle were made aware of Benalla's alleged violent acts soon after they happened but failed to alert law enforcement.
France's penal code states that any government official, public officer, or civil servant who acquires knowledge of a crime or an offence must alert the public prosecutor as soon as possible.
However, Paris' public prosecutor told French media they were only made aware of the incident this week.
Questions are also arising about the nature of Benalla's presence at the May Day protests and why other officers did not stop him.
"Why didn't the government fire article 40 of the penal code? Is there a parallel police system headed by the En Marche movement?" senior member of Les Republicains, Eric Ciotti, wrote on Twitter.
Various investigations have been launched into the incident. Paris' prosecutor opened a preliminary inquiry into potential charges, including violence by a public official, pretending to be a police officer, illegally wearing police insignia and attempting to obtain security camera footage.
Interior Minister Gerard Collomb will appear before a group of senators next Tuesday to explain Benalla's involvement in the May Day police operations.
The questions are likely to focus on whether he knew about the incident and, if so, for how long.
But political opponents like Christian Jacob, president of the Les Republicains in the National Assembly, also called on Prime Minister Edouard Philippe to appear before the assembly to explain what happened.
Was the executive trying to protect his close security aide despite the evidence?
Macron's ties with Benalla
The fact that law enforcement officials were not told about Benalla's reported violent acts at the May Day rally has raised questions over whether the executive's inner circle was trying to cover up the incident to protect him.
Macron and Benalla, 26, know each other well. The latter became the head of security of Macron's political campaign in 2017.
After Macron became president, Benalla became aide to the chief of staff, and also looked after Macron's security in public and private trips. Benalla was photographed a couple of times accompanying Macron in public and private events.
Le Monde also reported that Benalla's residence in Paris' chic 7th arrondissement was provided by the Elysee and that he had been given a car with a chauffeur.
15-day suspension: a sanction judged not sufficient by many
Benalla's initial 15-day suspension without pay has been judged a "weak sanction" by Macron's critics who believe the security aide should have been fired over the May Day incident.
Anger over Benalla's initial suspension was fuelled after Le Monde reported that Macron's aide was photographed with security staff inside the Bleus' bus during their victory parade last week despite being officially removed from overseeing the security of events outside the Elysee palace. It was not immediately clear if Benalla took part in security operations that day.
Macron's office told Le Monde that after his suspension, Benalla would only oversee the security of events taking place inside the Elysee.
The executive's treatment of Benalla's actions has also been widely criticised by the president's political opponents who say the security aide's dismissal should have come much sooner.
On Friday, the Elysee announced that Benalla would be dismissed not because of using violence against a protester but because of the latest revelations that the former security aide held police documents that shouldn't have been in his possession.
"The presidency decided to start Alexandre Benalla's dismissal procedure after new facts that could constitute misdemeanor were brought to the president's attention," the Élysée Palace said in a statement Friday.
Disbelief among members of Macron's own political party
Members of Macron's political party En Marche have also expressed disbelief at the Benalla scandal.
En Marche MP Laurent Saint-Martin said on television that "after such behaviour, one should not be allowed to work close to the president."
Cecile Rilhac, another En Marche MP, said in a statement she believed Benalla no longer has the legitimacy to work with the government.
Other political reactions
The first secretary of the French socialist party, Olivier Faure, called the Benalla scandal a "state affair" because the government "knew about [the incident] and lied about it." While the communist MP Sebastien Jumel said that Benalla "has been protected by the inner circle of the president." Marine Le Pen, President of the National Rally political party (formerly known as Front National) said in a video that "the Benalla affair was a state affair. The illegal actions of two government security aides have tarnished the police and the government's image. There are many questions that need to be answered."
Read on EuroNews