Today, on Wednesday, August 8, Vault.com released its annual Banking 50, a ranking of the best investment banking firms to work for in North America. The ranking is based on a survey of 2,800 banking professionals, who were asked to rate their firms in several workplace categories, including compensation, culture, hours, training, work/life balance, and business outlook. They were also asked to rate firms other than their own in terms of prestige. Here are some headlines:
Get The Timeless Reading eBook in PDF
Get the entire 10-part series on Timeless Reading in PDF. Save it to your desktop, read it on your tablet, or email to your colleagues.
Q2 hedge fund letters, conference, scoops etc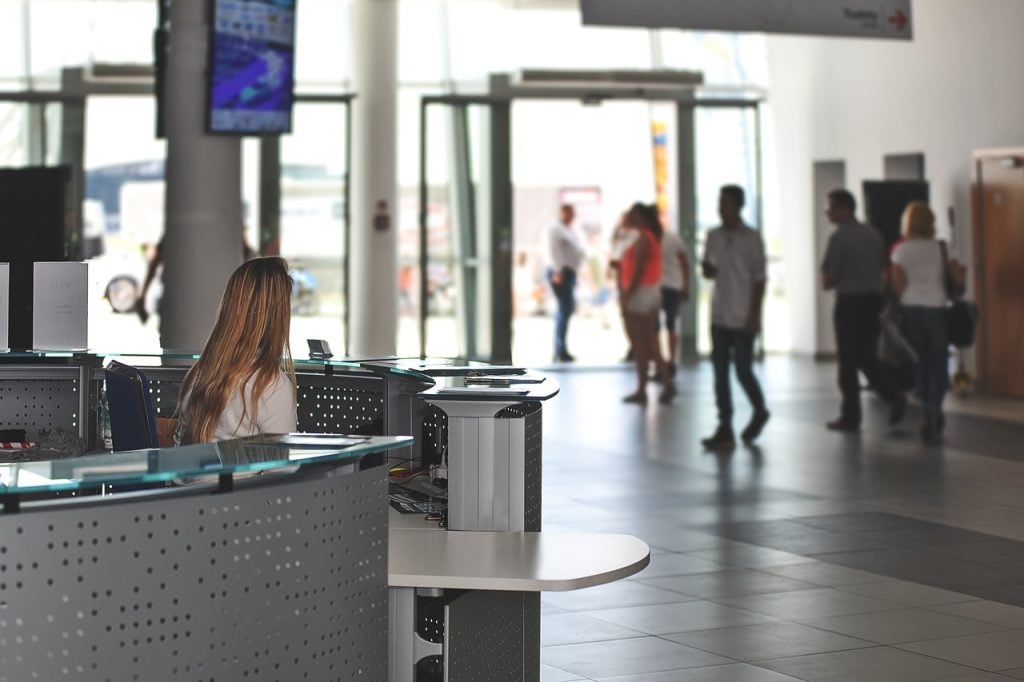 ---
Unmatched Prestige Lifts Goldman Sachs Into The No. 1 Spot Again In Latest Vault Banking 50 Rankings; Greenhill Dominates Banking Quality Of Life Rankings; Bank Of America Tops Vault's Diversity Rankings
New York, NY (August 8, 2018) Vault.com releases its Banking 50 Rankings for 2019, with Goldman Sachs again ranking as the top investment banking firm to work for. Meanwhile, Evercore and Centerview Partners hold their places at No. 2 and No. 3, respectively, underscoring the strength of the smaller banks. Morgan Stanley stays at No. 4 again this year, while boutique bank Greenhill jumps a spot to No. 5. Greenhill also dominates our Quality of Life Rankings, ranking No. 1 in 10 categories, including Culture, Hours, Promotion Policies, Overall Satisfaction, and Work/Life Balance.
The results are derived from Vault's annual Banking Survey. Conducted earlier this year, the survey asked 2,800 banking professional of all levels to assess their peer firms on a scale of 1 to 10 based on prestige (they were unable to rate their own firm and asked to rate only firms with which they were familiar). They were also asked to rate their own firm in various quality of life categories, including compensation, hours, firm culture, business outlook, training, work/life balance, and overall job satisfaction. A weighted formula was applied to this data to create the Banking 50.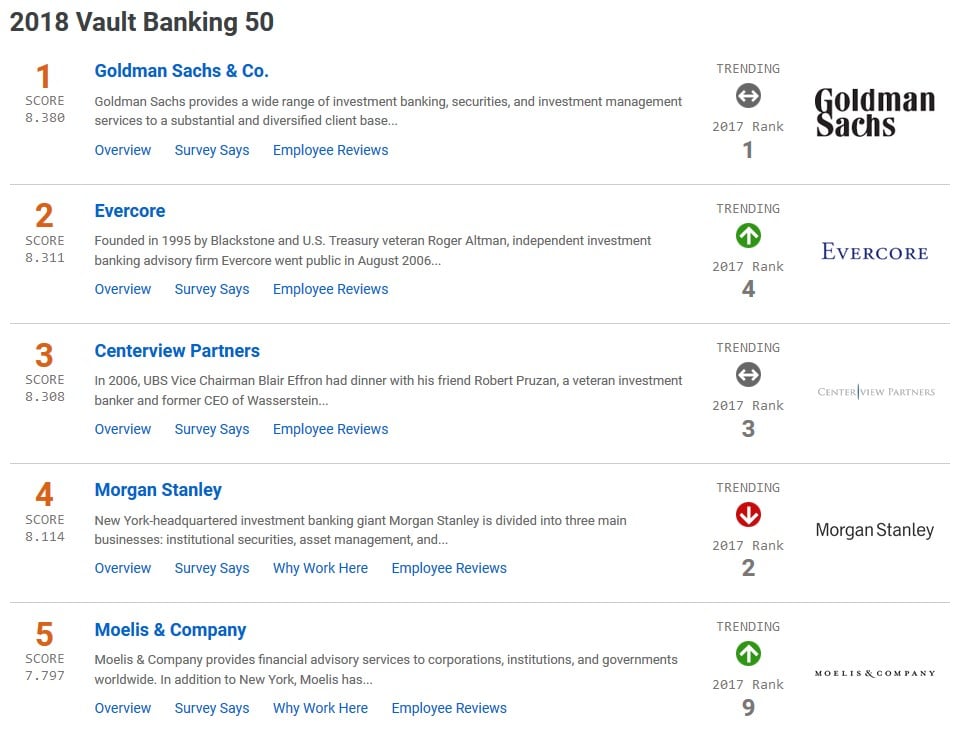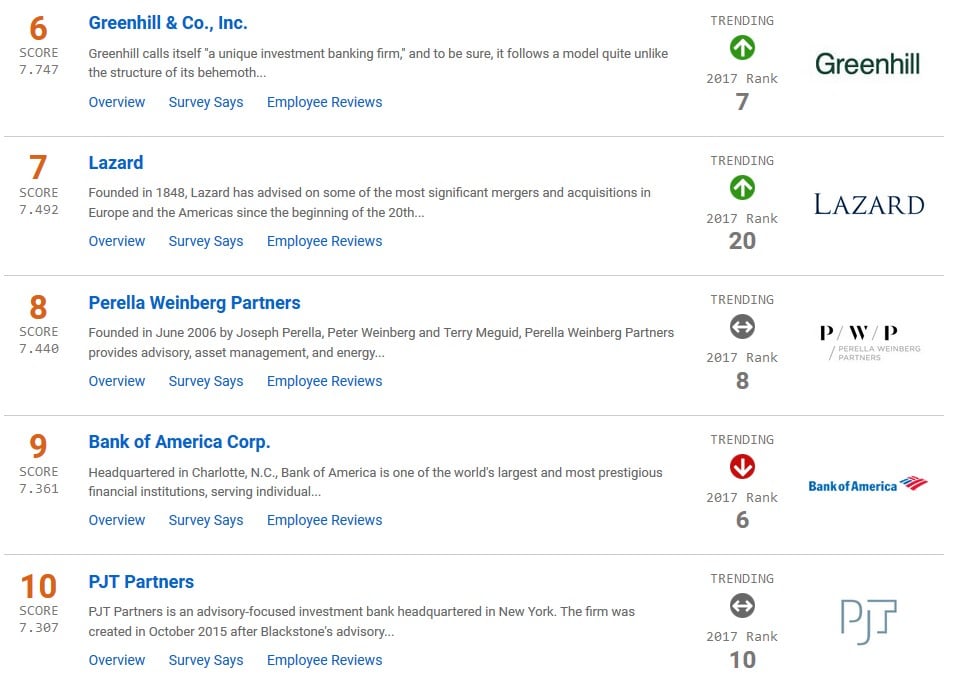 The 10 Best Investment Banks to Work For Based on Vault's Annual Banking Survey are:
Goldman Sachs
Evercore
Centerview Partners
Morgan Stanley
Greenhill
Moelis & Company
Perella Weinberg Partners
Guggenheim Securities
Bank of America
Lazard
Goldman Is "Still the Best Name to Have on Your Resume"
Goldman Sachs continues its dominance in Vault's Banking Prestige Rankings, again ranking No. 1. It also holds onto the top stop in the Banking 50, highlighting the fact that its unmatched prestige coupled with its innovative workplace policies make it the "best of the best" in investment banking.
"Goldman is still seen as the most prestigious bank, best dealmaker, and best bank at which to build your career—no matter if you want to stay in banking or eventually move to another industry," says Vault Senior Finance Editor Derek Loosvelt. "Professionals at peer firms continue to rate Goldman well above its competitors in prestige, while those inside the firm, though not without their complaints, nearly unanimously rave about their highly talented and helpful colleagues, the challenging and interesting assignments they get to work on, and the nearly unmatched development and growth opportunities."
Here's one Goldman Sachs banker speaking to us about the firm's career development opportunities: "Goldman is an incredible place to work, with the most talented people working together in an intense, entrepreneurial work environment. The firm's laser focus on client service, risk management, and best commercial outcomes makes for an exciting and rewarding career. If you're a strong performer, there will be mentors available for you to guide you in your development. Senior MDs and partners tend to be the best in their field across the industry, so the apprenticeship is quite valuable. Internal transfer opportunities are also readily available at junior levels."
Other Goldman insiders note that the best things about their jobs include "working with hardworking, supportive colleagues in a culture of excellence"; "the challenging, interesting work"; "the many growth and advancement opportunities"; and, of course, "the prestige—the brand name and reputation."
Evercore Inches Closer to Goldman
Evercore holds steady at No. 2 in the Vault Banking 50, while narrowing the gap between No. 1 and No. 2. This year, Evercore's raw score in the Banking 50 was 8.372 vs. Goldman's 8.431. That means Evercore lessens the gap between the top two firms by 17 percent (last year, Evercore scored 8.311 vs. Goldman's 8.380). Evercore was able to gain ground thanks to solid ratings in Compensation, Business Outlook, Formal Training, and Overall Satisfaction. It also scores well in Prestige, jumping one spot in that ranking to No. 4.
Here's one Evercore insider speaking about the development and training opportunities at the firm: "We have tremendous deal flow, and this gives young people a great experience. Doing deals is the only way to learn M&A, and thus they get an exceptional education at Evercore. We believe in the apprenticeship model, and we care a lot about our human capital, so we spend a lot of time and effort on mentoring and teaching people."
Banking Boutiques Hold Strong
Several boutique banks—including Centerview, Greenhill, Perella Weinberg, and Moelis—have a lot to be proud of. Centerview stays strong at No. 3 in the Vault 50, while holding at No. 6 in Prestige. The firm, which has been on a tear in recent years, gaining market share in the M&A deal market, also ranks No. 1 in Compensation and Firm Leadership, No. 2 in Promotion Policies, and No. 3 in five categories, including Culture, Business Outlook, and Overall Satisfaction.
Here's one Centerview insider speaking about life at the firm: "Centerview has a fun, collaborative, supportive culture. We take pride in doing excellent work, but at the same time are very respectful of people's personal lives. We want our bankers to have full, rich professional lives as well as happy personal lives. Partners are respectful of your time, and junior bankers are treated with respect. The firm is incredibly collegial. We all want each other to succeed, and we support and celebrate each other's successes."
Meanwhile, Greenhill rises one place to No. 5 in the Vault Banking 50 while dominating the Quality of Life Rankings, coming in at No. 1 in 10 categories, including Culture, Hours, Promotion Policies, Overall Satisfaction, and Work/Life Balance.
Here's a Greenhill insider speaking about why the bank is such a great firm to work for: "There's a strong culture here focused around teamwork and collegiality. Senior management is very focused on maintaining that. Also, there's a high quality of life with a focus on working smarter and flexibility to work remotely. No face time at all. Hours tend to be unpredictable, but that goes with the industry. If you let people know your external commitments early, they can usually be accommodated."
Perella Weinberg Partners, another strong up-and-coming boutique, rises one spot this year in the Banking 50 to No. 7, while also ranking No. 1 in both training categories: Formal Training and Informal Training. The firm also tops the rankings in the important Benefits category. Meanwhile, Moelis, an impressive No. 6 in the Banking 50 this year, ranks No. 1 in Business Outlook and No. 2 in Internal Mobility. Overall, it ranks among the top five banks in 11 workplace categories.
According to Loosvelt, "This year's rankings again show that although Goldman is in a class by itself when it comes to prestige, boutiques like Evercore and Centerview continue to close the gap between the big firms and boutiques when it comes to being a top banking employer. Typically, the boutiques offer healthier work environments, with more forgiving cultures and much better hours. That said, it'll be very interesting to see what happens next year with Goldman under new CEO David Solomon, a.k.a. D.J. D-Sol. I expect to see Goldman's culture to shift somewhat under Solomon, for the better."
Bank of America Leads the Way in Diversity
Underscoring its commitment to inclusion and diversity, Bank of America nearly sweeps the Diversity Rankings. The firm ranks No. 1 in Overall Diversity, Female Diversity, and LGBT Diversity, and ranks No. 2 in Minority Diversity. Minority-owned bank Loop Capital takes the top spot in Minority Diversity.
View the entire Vault Banking 50 Rankings here.
---
About Vault
Vault is the most comprehensive resource for employer, university, and internship rankings, ratings, and insights. Vault's influential rankings and reviews are sourced from directed surveys of professionals and students. These rankings and reviews evaluate companies, schools, and internships in terms of prestige, diversity, quality of life, compensation, and other categories. Vault provides users with in-depth information on employers, industries, interviews, and available jobs and internships. In addition, Vault partners with employers to help build their brands and assist with recruiting efforts, and with universities to help their students with employment placement and career selection.
Read on Valuewalk