Oversized braids, '60s flips and garish headscarves are just a few of the hair trends we've seen crop up so far in 2018, with hundreds more yet to come. With the hair industry in full swing and kooky new trends pushing their way into the media every few weeks, it was only a matter of time before someone decided to chart its growth! Prose, an innovative beauty startup, is fascinated by the goings on (and welfare) of other haircare professionals. And one of the facets that piques our attention the most is the ever-shifting tide of employment and wages of stylists (hairdressers, hairstylists and cosmetologists) within the United States.
For this reason, we began delving into the Bureau of Labor Statistics' datasets on 'Occupational Employment and Wages', of which we were able to surface many interesting titbits. Using the data (which spans an impressive 20 years!), we have visualized every surge, dip and turnaround of these factors by state, using simple colour-coded gifs of the United States.
Get The Timeless Reading eBook in PDF
Get the entire 10-part series on Timeless Reading in PDF. Save it to your desktop, read it on your tablet, or email to your colleagues.
Q2 hedge fund letters, conference, scoops etc
On top of this, we have pulled out four lists of 10 US states, two of which showcase the top performing US states for both employability and annual mean wage, for stylists; and another two lists which reveal which states have seen the largest increases in these areas over the last 20 years. The results may surprise you! See below our employability map: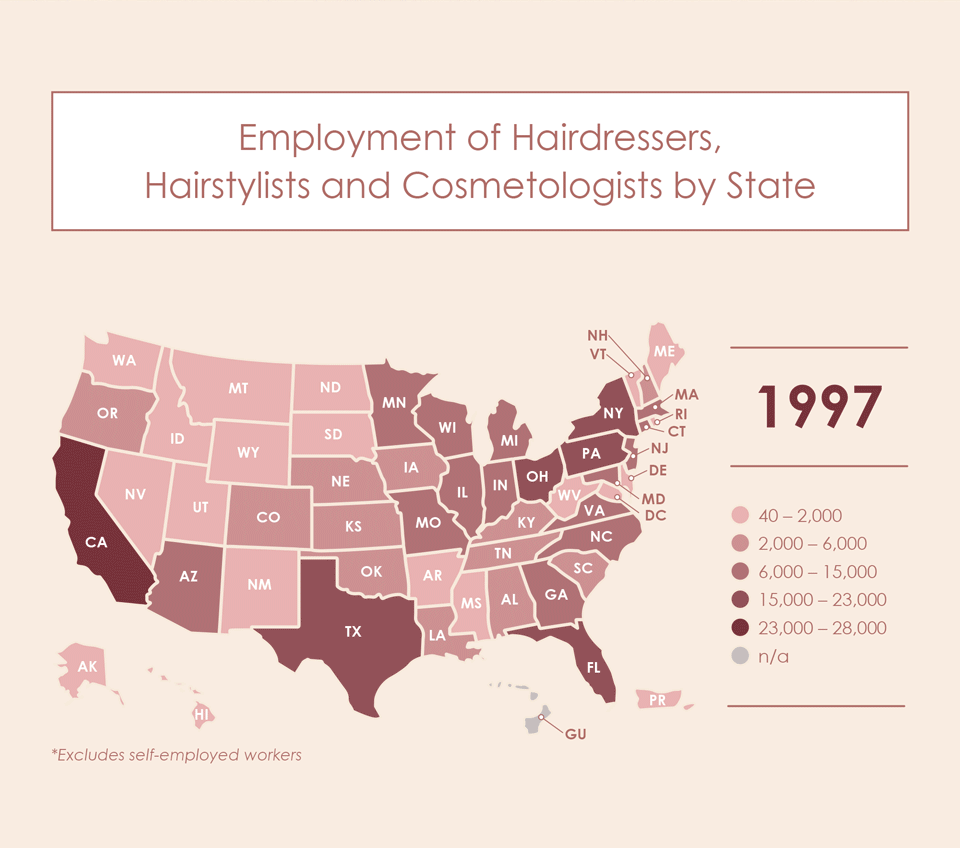 According to the data, California appears to have the most stylists employed, with a grand total of 27,920 workers, closely followed by New York and Florida, who have tied at just under 26,000. Other top performing states for employability include Pennsylvania (23,730), Texas (21,520) and Ohio (16,890). Despite California topping the list for stylists employed, this state ranked very low for employability increase (only a 6% increase since 1997). States with the lowest number of workers include Vermont (650), Alaska (510), Wyoming (500) and Guam (90).
Nevada appears to have seen the largest surge in employment over the past 20 years (an impressive 97.22% increase). Close behind this state are South Carolina (83.64%) and Utah (69.15%), followed by a sudden drop in employability increase between Utah and the District of Columbia (45.45%). The states that appear to be showing fairly consistent levels of employability include Michigan (2.39%), Oregon (1.30%) and Wyoming (0%), while the biggest decreases to employability seem to be centred in North Dakota (-36.08%), Montana (-39.29%) and Rhode Island (-44.63%).
The above statistics are calculated according to each respective US state's individual growth, over the last 20 years. However, the states that are actually seeing the largest influx of stylists being employed are Pennsylvania (5,220 more workers), New York (5,120 more workers) and Florida (3,120 more workers). Considering this, any aspiring stylists looking for work in these states might be facing some competition! Wisconsin, on the other hand, appears to be slowly losing stylists (1,510 lost since 1997) – though we can't say for certain whether this is good (employability prospects) or bad.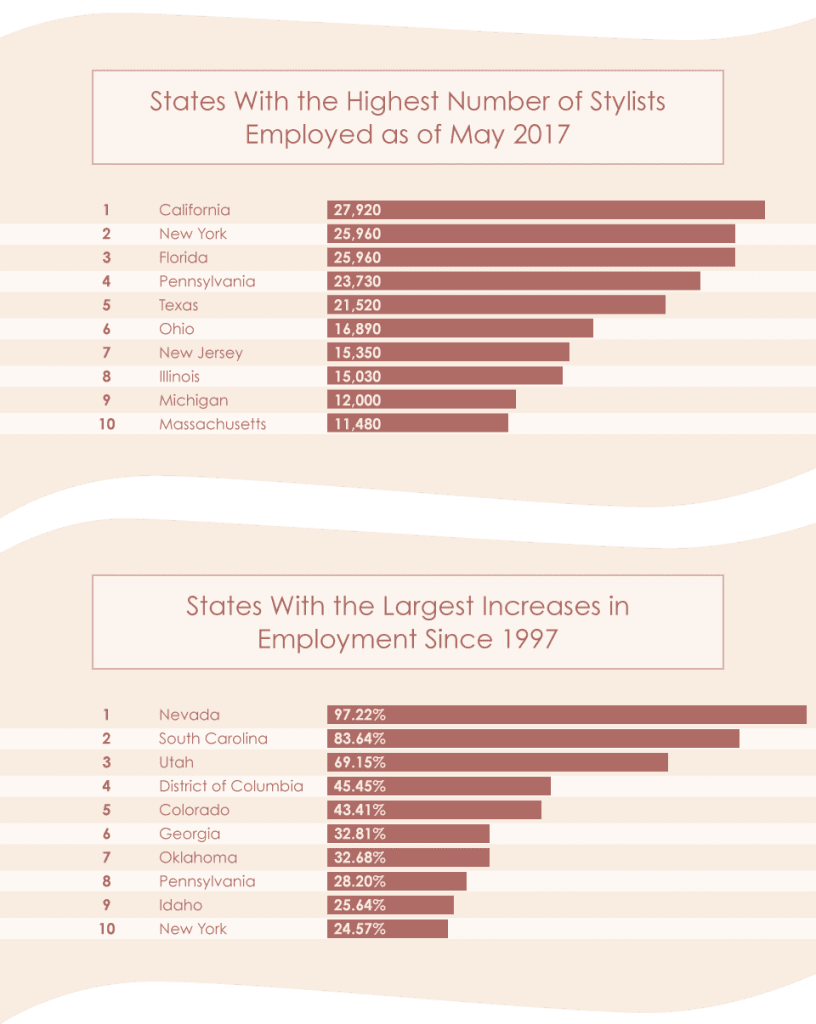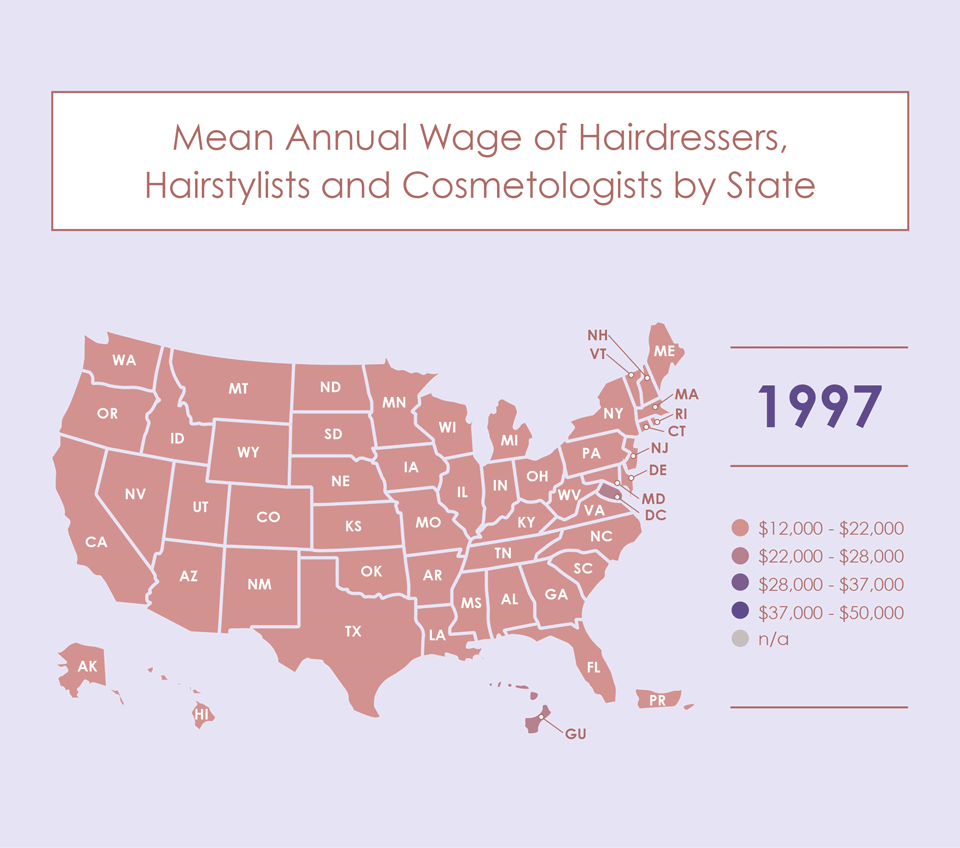 The state that currently holds the crown for highest annual mean wage is District of Columbia, which sums a cushy $45,680. Other states with the highest mean annual wages for stylists (as of May 2017) include Washington ($40,680), New Jersey ($37,660), Massachusetts ($37,410) and Virginia ($37,070). The US states that appear to have been holding stable on the salary front include Michigan (2.39%), Oregon (1.30%) and Wyoming (0%). Those states with the smallest annual salaries include Alabama ($24,190), Louisiana ($24,130), Utah ($23,820) and South Carolina ($21,750).
Since 1997, Columbia has also seen an impressive 76.4% increase in annual mean wage for stylists. However, there have been much larger increases in annual mean wage… As of May 2017, the largest increase belongs to Washington (134.6%), closely followed by New Jersey (117.8%), Delaware (107.6%) and North Dakota (106.6%). South Carolina (14.6%) and Guam (5%) appear to be the states showing the most minimal increase (although it does seem that the US has seen increases across the board, whew!). From this data, we can safely say that annual mean wages for stylists are steadily increasing all over the US, but some states are certainly seeing more significant salary increases than others.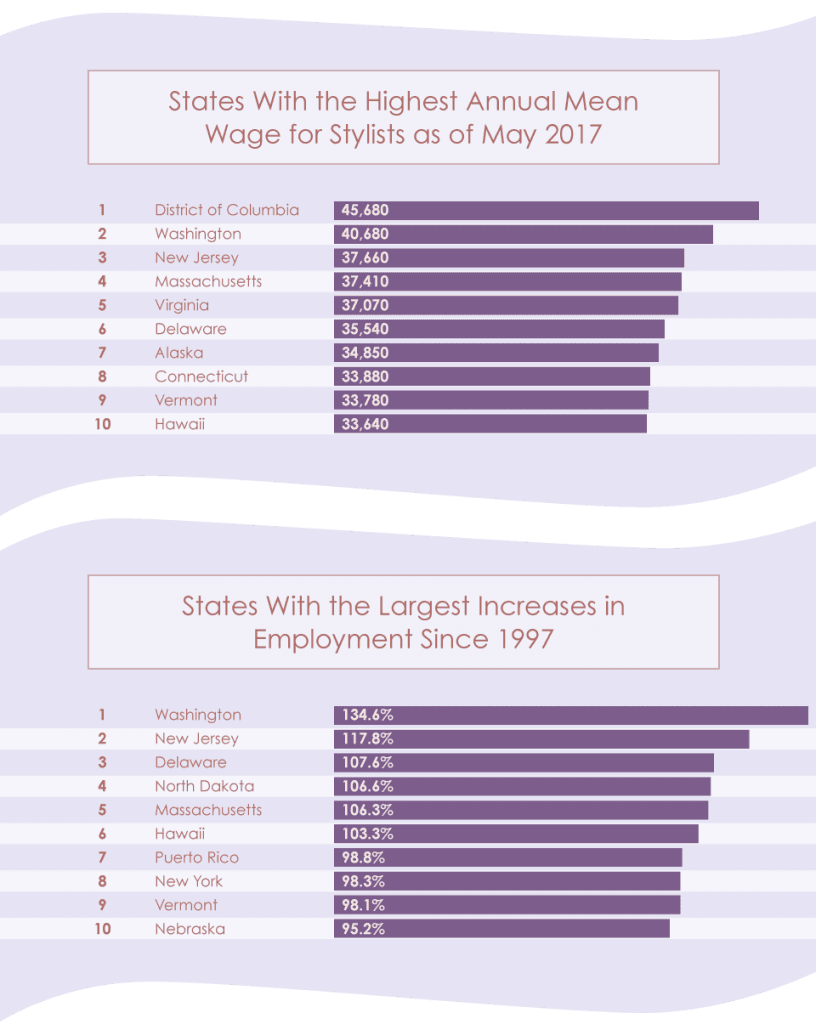 If we then cross-reference every state according to its mean annual wage and employability scores, it's possible to determine a top 10 list of the best US states for aspiring stylists… Those that offer the biggest bucks, but also great employability prospects.
It appears that Washington is the top choice, closely follow by Nevada, New Jersey, Delaware and New York. According to the data, some of the states aspiring stylists might want to avoid include Montana, New Mexico, Louisiana, Rhode Island and Guam. You can find the full list below, along with each state's wage and employability scores:
Washington
Mean Annual Wage: 134.6%^
Employability: 17.13%^
Nevada
Mean Annual Wage: 53.2%^
Employability: 97.22%^
New Jersey
Mean Annual Wage: 117.8%^
Employability: 13.54%^
Delaware
Mean Annual Wage: 107.6%^
Employability: 16.56%^
New York
Mean Annual Wage: 98.3%
Employability: 24.57%^
Massachusetts
Mean Annual Wage: 106.3%^
Employability: 15.84%^
District of Columbia
Mean Annual Wage: 76.4%^
Employability: 45.45%^
Colorado
Mean Annual Wage: 72.6%^
Employability: 43.41%^
Utah
Mean Annual Wage: 42.5%^
Employability: 69.15%
Idaho
Mean Annual Wage: 84.3%^
Employability: 25.64%^
Read on Valuewalk