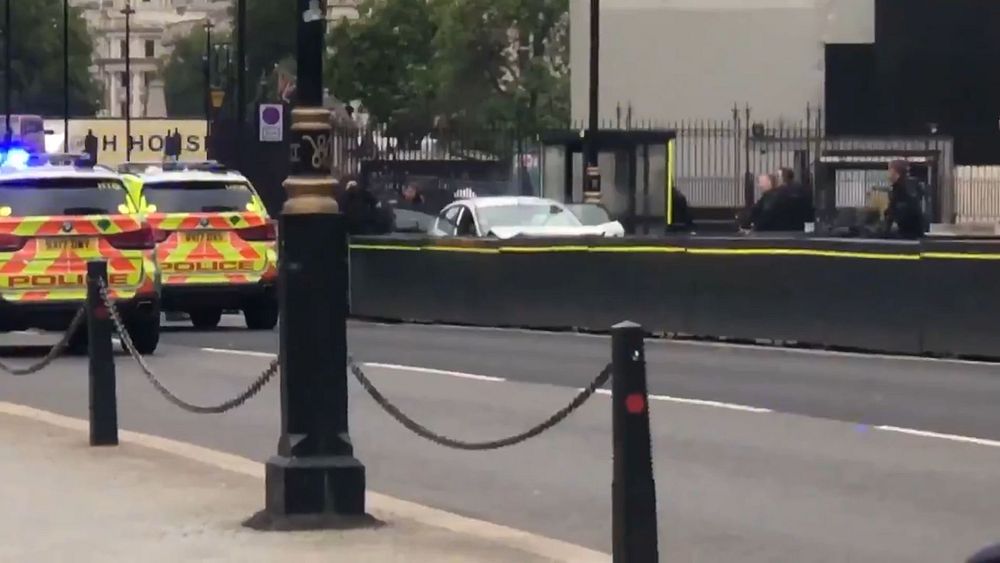 A car has smashed into barriers surrounding the UK parliament in London, injuring two passers-by pedestrians.
Video captured by Euronews correspondent Vincent McAviney showed the light-coloured vehicle, its bonnet crumpled in the road. A man was dragged from the car by police and arrested.
Police moved bystanders away from the scene and closed roads in the area.
It is unclear how the incident came about London Ambulance Service said two people had been treated for injuries that were not believed to be serious.
Ewelina Ochab witnessed the incident and told Euronews: "I was walking on the other side of the pavement from where the incident occurred. I heard some noise, and someone screamed. I turned around and I saw a silver car driving from the crossing – very fast and close to the railings, maybe even on the pavement.
"The car did not have any registration plate. The car drove at speed into the barriers outside the House of Lords. There was a loud bang from the collision and a bit of smoke.
"The driver did not get out. The guards started screaming to people to move away. One elderly man rushed me to hide behind a monument, just in case. The police arrived very quickly."
Read on EuroNews