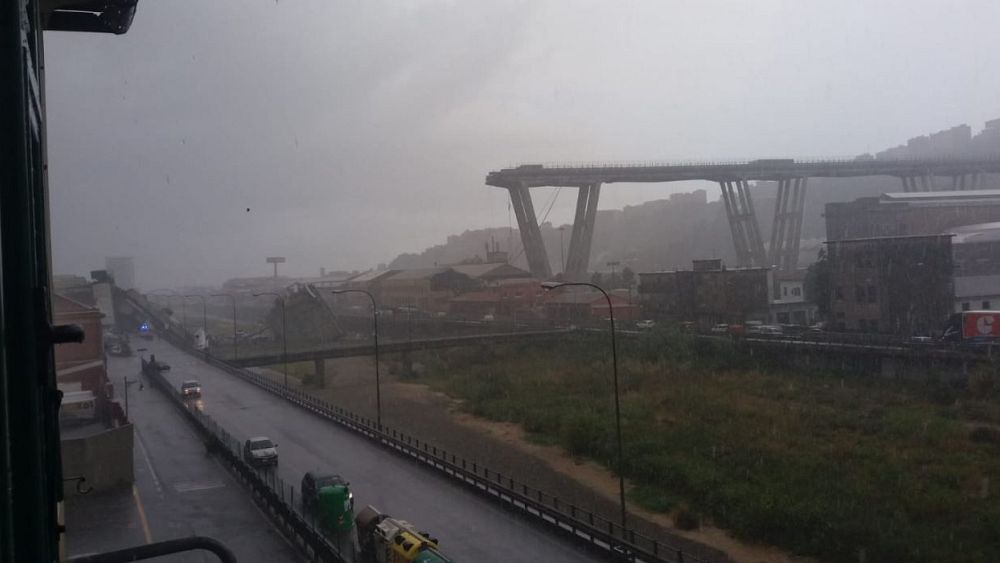 A motorway bridge has collapsed near Genoa, Italy.
A press officer from Italy's Office of the Interior Ministry told NBC that 23 were people confirmed dead, of whom 19 had been identified.
At least 15 people were injured in the tragedy, the source said.
Italian Deputy Prime Minister Matteo Salvini previously said around 30 people had died.
A 200-metre section of the Morandi Bridge, part of the A10 motorway, fell during a fierce and sudden storm earlier today.
"I'm following with great apprehension what has happened in Genoa, which appears to be an immense tragedy," said Italian Transport Minister Danilo Toninelli via Twitter.
A witness told Sky Italia television he saw "eight or nine" vehicles on the bridge when it fell in what he described as an "apocalyptic scene".
One person has been rescued alive from the rubble and flown to hospital by helicopter, ANSA news agency reported.
The elevated road crumbled over a river, railroad tracks and industrial buildings. The highway acts as a corridor to the Italian Riviera and to France's southern coast. Train services around Genoa have been halted.
"It's not acceptable that such an important bridge was not built to avoid this kind of collapse," said DeputyTransport Minister Edoardo Rix on SkyNews24, speaking from Genoa.
The Morandi Bridge was built over the northern Italian port city of Genoa in the 1960s. The motorway bridge underwent extensive repairs in the 1980s, 1990s and most recently in 2016. Work on its foundations was being carried out at the time of its collapse.
Engineering professor, Antonio Brencich, warned in 2016 that the bridge needed to be completely rebuilt as its structure had deteriorated too rapidly.
However, the director of Autostrade del Tronco Genovese, Stefano Marigliani, who is responsible for maintenance of the region's highways, told Radio Capital that the disaster could not have been foreseen:
"There were no signs of danger. The bridge is subject to frequent checks, it was a constantly-monitored infrastructure. The works in progress were just ordinary maintenance."
Before and After
Location of the collapse
Messages of solidarity
Messages of support were widely shared online with politicians and citizens tweeting messages of their sympathy to those involved in the accident and the Italian people.
President of the European Commission Jean Claude Juncker expressed his "deepest sympathy and sincere condolences to the families and friends of those who have died" and his "best wishes of strength and courage go to those involved in the rescue operations".
French President Emmanuel Macron tweeted his condolonces, adding: "France is close to Italy in this tragedy and is ready to provide all necessary support."
"The UK stands alongside our Italian friends and allies following this tragic event," said British Prime Minister Theresa May.
Read on EuroNews