Given the broadly positive returns posted in July, the second half of 2018 would appear to be off to a good start, but digging into the details gives plenty of evidence investors may be feeling less rosy. Given the ups and downs during the year so far, within the macro and managed futures group it is very likely that investor sentiment is questionable and low, respectively. July did not help either group improve their standings, though there are significant differences between the two.
Get The Timeless Reading eBook in PDF
Get the entire 10-part series on Timeless Reading in PDF. Save it to your desktop, read it on your tablet, or email to your colleagues.
Q2 hedge fund letters, conference, scoops etc
There are segments doing well, however. Large quantitative equity strategies appear to be satisfying recent investor allocations, and within credit markets distressed funds have emerged as an industry outperformer in 2018.
We had noted the industry has worked itself back to a crossroads in recent months. One thing July has confirmed is that it is there that many within the group remain.
Highlights
Hedge funds returned an average of +0.59% in July, and are now +0.79% in 2018.
Managed futures products posted another negative month in July, the group's fifth monthly decline of 2018.
Large macro products underperformed in July, but still lead their universe peers for the year.
China-focused funds posted their second consecutive large loss in July, now down for the year.
Hedge Fund Returns Shift Back to Positive Without the Support of Many Macro and Managed Futures Funds
Hedge funds returned an average of +0.59% in July, and are +0.79% through the first seven months of 2018. Pockets of good performance are still being overshadowed at the aggregate level by underperformance from macro and managed futures products.
Key Points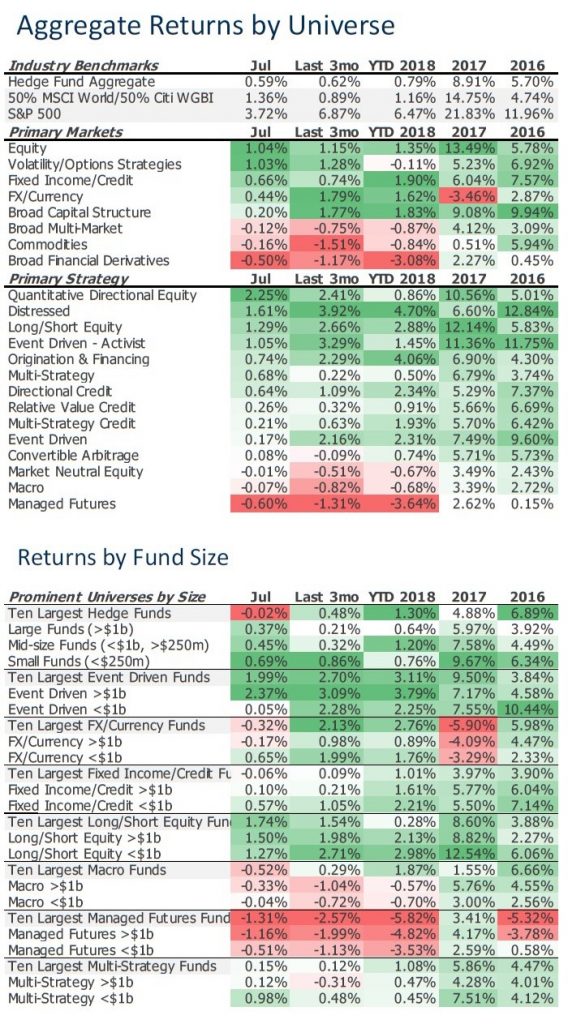 On the surface, July returns look pretty good, but do investors likely feel the same?
Nearly 63% of reporting products produced gains in July. That's the second best reading of the year behind the 81% in January, but looking at the largest products, many of which had large inflows the last two years, eight of ten declined in July. Their returns are still greater than the industry average in 2018, but have an average return of +1.30%. While that is better than a basic 50/50 equity/bond mix, it is only slightly and only half the group is outperforming.
Large macro disappoints in July, but still outperforming smaller peers.
We've written it often in recent months, but it is worth repeating. Larger macro strategies have been investor favorites in 2017/2018, and for the most part this refined group had done relatively well. In July, however, losses crept in for the second consecutive month. Now, more than half the group would be considered underperforming for the year and after redemptions emerged in June, the stage is set for some uncomfortable conversations toward the end of the year if relative improvement isn't evident.
Managed futures again lead to the downside.
Managed futures strategies are having troubles, and recent returns are not changing that perception. Products have produced aggregate losses in five of seven months of 2018, including three consecutive monthly declines through July. Year-to-date returns for the largest products average near -6%, and redemptions have emerged and have been persistent.
Quant equity strategies rebounded in July, turn back positive for the year.
There is a fair amount of dispersion among directional quant equity strategy returns, but for the most part funds took advantage of rebounding equities in July. Contrary to managed futures, the largest products in this space are outperforming the majority of their peers by a good margin, an obvious positive for investor sentiment heading into H2 2018.
Emerging Markets Post First Aggregate Gains Since January, Not All Take Part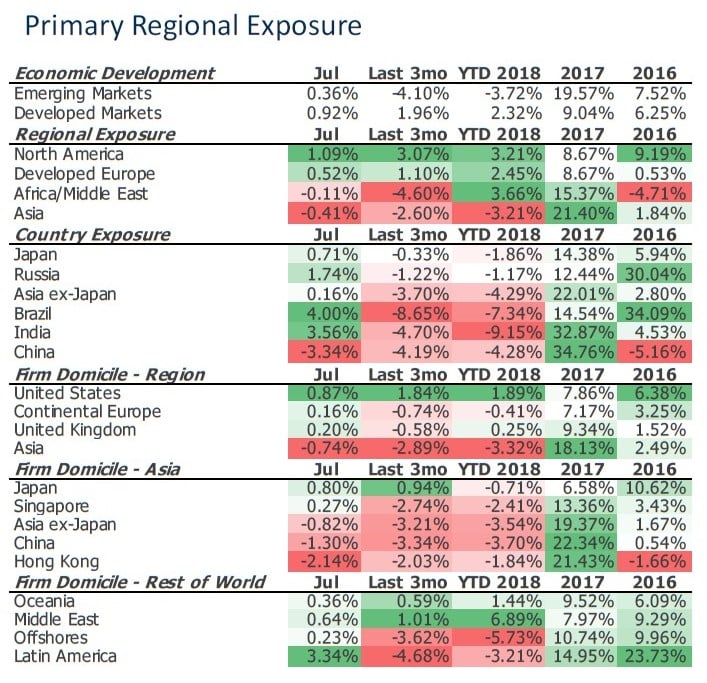 Key Points
Brazil and India led the EM rebound in July.
Both country exposures have a long way to go to dig out of their current drawdown, but returns in July are a step in the right direction. The two groups are still leading the industry to the downside after very good recent years.
Losses accelerated within China-focused strategies.
Only one reporting China-focused product was able to post gains in July, but even in that apparent lone bright spot is actually leading its peers to the downside for the year. This predominantly equity-oriented universe is feeling the weight political influence and July pushed the group firmly into negative territory for the year.
Article by eVestment
Read on Valuewalk