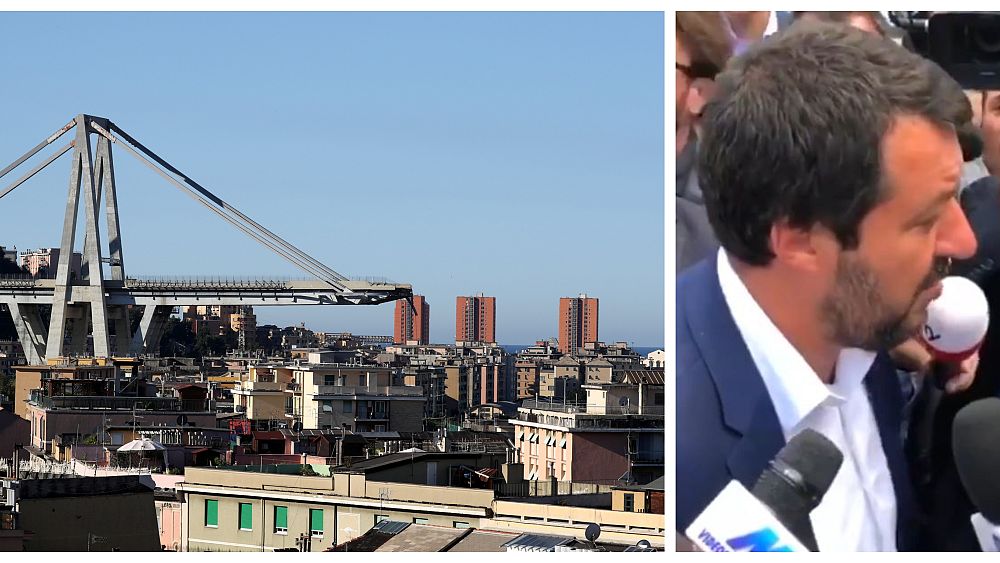 Hours after a deadly bridge collapse in Genoa, Italy's deputy PM, Matteo Salvini, appeared to do exactly that.
He tweeted: "If there are European constraints that prevent us from spending money to secure the schools where our children go or the highways on which our workers travel, we will put in front of everything and everyone the security of the Italians."
Salvini, leader of the right-wing League party, is referring to EU fiscal rules that put restrictions on spending to prevent debt from getting out of control. Italy is already one of the most indebted countries in the EU.
So, does he have a point?
Not really, Veronica Vecchi, a professor of public management at Bocconi University, Milan, told Euronews' Lillo Montalto.
She said spending restrictions in Italy exist but that Rome had chosen to pass them onto the regions by cutting their budgets.
This, claimed Professor Vecchi, had seen local authorities struggle for cash and make deals with the private sector more attractive.
It is therefore the deal made with the private sector that should be looked at in the light of the Genoa disaster, she added.
Autostrade, part of the infrastructure group Atlantia, was the firm that had the contract for maintaining the 50-year-old bridge.
"In the specific case it is a contract under the responsibility of the Ministry of Infrastructure," she said.
"The real problem with such contracts is the negotiation of investment plans with the contractors.
"The tariff collected by Autostrade must be sufficient to cover maintenance."
Autostrade says it had carried out regular and sophisticated checks on the structure and they had not shown up any signs of trouble.
However, Italy's transport minister has called for the company's top management to quit.
The European Commission, responding to Salvini's criticism, said Italy had been one of the main beneficiaries of Brussels' fiscal flexibility, which had allowed it to "invest and spend much more in recent years".
"Over the 2014-2020 period, Italy is set to receive around €2.5 billion under European Structural and Investment Funds for investments in network infrastructures, such as roads or rail," continued the statement.
"In April 2018, the Commission also approved under EU State aid rules an investment plan for Italian motorways, which will enable around €8.5 billion of investments to go ahead, including in the Genoa region.
"In the immediate aftermath of this tragedy, our thoughts are with the victims and the emergency services at the scene, as President Juncker expressed in his statement on August 14.
"The commission is in close contact with the national authorities conducting the investigation and stands ready to provide any necessary assistance. We will not engage in any political finger-pointing."
Read on EuroNews