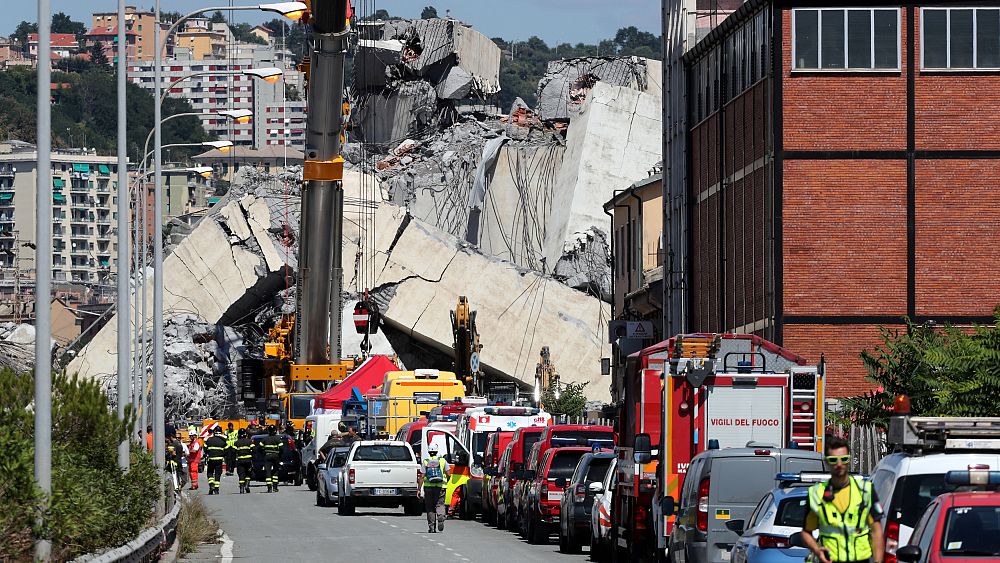 A day after a section of one of the main roads linking France to Italy collapsed at least 39 people have been confirmed dead.
Among the victims were Italians on holiday or making routine journeys to work, including an entire family.
Genoa's Morandi Bridge gave way on Tuesday morning throwing cars onto the motorway below and crushing others under its weight.
Rescuers have since been working around the clock to look for survivors.
Italy's transport minister has accused senior managers of the company that operated the bridge of being responsible.
With authorities fearing the death toll will rise as the rubble is cleared, here is what we know so far about the victims.
Andrea Cerulli, 48
Euronews' reporters in The Cube have identified Cerulli as one of the victims. The die-hard football fan and father worked for CULVM, a Genoa-based port company, for 15 years, a colleague told Euronews.
Fellow supporters of football club Genoa Club Portuali Voltri posted a tribute to their "associate, our friend, our colleague" on Facebook late on Tuesday, before signing off with "Goodbye Andrea".
Luigi Matti, 35
Matti's family posted a desperate appeal for information on Facebook in the hours after the bridge collapse. His death was later confirmed to Euronews by his brother. Matti, a Genoa resident, came from the small town of Borghetto and was honoured by local mayor Giancarlo Canepa on social media.
"The municipal administration joins the pain of Giovanni, a model citizen and an exemplary volunteer of the Civil Protection Section of Borghetto, for the loss of his dear nephew in the terrible tragedy of Genoa," he said in a Facebook post.
In a separate post, Matti's brother Michele blamed poor maintenance for the bridge's collapse and slammed those responsible for their "indifference" towards safety.
"Let's hope in the future we can live in a country loved by ourselves and by the people running it", he added.
Marta Danisi, 29
Danisi's death was confirmed by Sant'Agata Militello mayor Bruno Mancuso, who said in a Facebook post that the local woman's fiance, thought to be 32-year-old Alberto Fanfani, died with her in the incident.
"On behalf of the entire community, I express deep sorrow to the family for the great pain that has afflicted them," he added.
Mancuso declared Wednesday as a "day of mourning" for the young nurse, saying summer events for the small medieval town would be postponed until August 20.
"Rest in peace Marta Danisi along with your love," said friend Giuseppina Ida Elena Giuffrida in another separate, lengthy tribute to the young woman and her partner. "May the Lord give you peace."
Roberto Robbiano, 44, and Ersilia Piccinino, 41
Friends of the married couple from Campomorone, a town in the province of Genoa, mourned their loss online late on Tuesday. It is also believed that their eight-year-old son Samuel died alongside them.
"I still can't believe this happened to you. I love you my friend, I'm going to miss you so much. Rest in peace," said travel agency worker Fabio Vrenna in an emotional Facebook post.
"The bridge destroyed 2 families and friends!!!! Roberto Robbiano and Andrea Cerulli always in our hearts," said another mutual friend of the two victims, Fransesco Procopio, on social media.
Antonio Stanzione, 29
Stanzione from Torre del Greco in Naples was killed in the collapse. He reportedly died alongside three other men: Giovanni Battiloro, 29, Gerardo Esposito, 26, and Matteo Bertonati, 26, while the group were travelling to Nice in the south of France.
"You were the youngest among your brothers, full of desire to do so many things, one could see in your eyes how much desire you had to live. You were involved in a tragedy that has taken you away from us without warning," lamented cousin Anita Depasquale. "Have a safe trip Tony."
Stella Boccia, 23
Boccia, from Civitella in Val di Chiana in Tuscany, was confirmed dead on Wednesday morning by her family, who said her body was found buried under debris by rescuers.
Posting from the Facebook account of their Tuscan pizza restaurant, Il Pescatore, they apologised to customers, saying the eatery would close until further notice.
"We will be closed for mourning unfortunately a piece of our heart ? stayed under the rubble of Genoa Bridge!" they said.
It is thought Boccia died alongside her boyfriend, 27-year-old Carlo Erazzo Trujillio.
Giorgio Donaggio, 61
Donaggio's death was confirmed by Italian celebrity cyclist and TV presenter Vittorio Brumotti, who credited his "great friend" with helping to launch his career.
"My great friend Giorgio Donaggio, himself a motorcycle trial champion, was lost in the Genoa bridge disaster. He's been my idol since I was a child and it's also thanks to him that I am what I am today. RIP Super George," he wrote on social media.
Donaggio leaves behind a wife and three children.
Four French youths are named
French media have identified four French youths believed to be among the dead as of Wednesday night: William Pouzadoux, 22; Mélissa Artus-Bastit, 21, from Toulouse; Nathan Gusman, who is in his thirties; and Axelle Place, 19.
Franceinfo and Le Parisien reported that the group were travelling from France to Italy for a rave when they were killed.
Pouzadoux's sister was reported by Le Parisien as saying: "He was stubborn but funny. He was a winemaker between Orange and Châteauneuf-du-Pape … He had a dog he loved, and he dreamt about buying a truck and travelling around the world. "
Read on EuroNews