Over the last few years, there has been a steady flow of assets out of active equity funds and into passive funds, and this trend shows no signs of stopping. Moody's Investors Service now warns that outflows from active equity funds are on the rise. This is bad news for asset managers, especially as the clock on the bull market ticks down.
Outflows from active equity funds are picking up
A Moody's team led by Stephen Tu wrote recently that outflows from active equity mutual funds accelerated this year, reaching a new record rate on a year-to-date basis. Based on long-term domestic equity fund data from the Investment Company Institute, Moody's reports that outflows from active equity funds were at $129.11 billion for the year through the end of July, compared to $99.88 billion for the same period last year and $110.62 billion for the first seven months of 2016.
Get The Full Series in PDF
Get the entire 10-part series on Charlie Munger in PDF. Save it to your desktop, read it on your tablet, or email to your colleagues.

Triple-whammy for active equity funds: outflows, fees and market share
According to Moody's, traditional asset managers have been relying on the market's runaway valuations to mask the weakness in their business models. Cash flow generation among active equity funds has been stable thanks to those soaring valuations.
Underneath the mirage of stability, the firm warns that the lack of organic growth in assets under management is a cause of concern for traditional asset managers, especially at a time when the asset markets continue to make new highs. Moody's sees the increase in outflows as credit negative for active equity fund managers like GAMCO Investors, Janus Henderson Group and BrightSphere Investment Group.
In addition to outflows, fees are also under pressure from passive funds. Active funds with higher fees are being hit the hardest as investors increasingly realize that their passive investments do as well as or better than high-fee funds. Moody's notes that asset management fees have been trending downward for some time. In fact, the net expense ratios for active equity fund fees now average less than 60 basis points, according to ICI data. Active bond funds are also being hit by lower fees, as their ratios now average less than 50 basis points.
Tu and team at Moody's observed that the investor shift from active equity funds to passive investment products seems to be accelerating. In fact, they found that the passive share of the investing market grew to 34.8% as of the end of 2017, beating their previous forecast of a 33.9% share. Moody's continues to expect passive investment options to overtake active funds by 2024.
They believe this shift is making asset managers more susceptible to volatility in the stock market and soaring equity valuations.
Active equity funds argue that it's time to switch back
The debate over passive versus active funds has heightened over the last few years as active fund managers found it increasingly difficult to outperform key benchmarks tracked by passive funds.

However, times are changing, and active fund managers would like to see inflows pick back up.
In a note last month, LPL Financial argued that conditions were starting to shift in active managers' favor. Central banks are starting to tighten their monetary policies while hiking interest rates, and for the last several months, more and more market watchers have said the environment for active investing should improve soon. The extreme and skyrocketing valuations which have marked today's bull market have made it difficult for active equity funds to outperform passive funds.
According to LPL, active funds perform better during times of volatility, a trend observed by many major hedge funds in their second-quarter letters. Meanwhile, when the stock market is carried up, up and away by soaring valuations, active managers struggle, so it makes sense that investors would switch their assets into passive vehicles.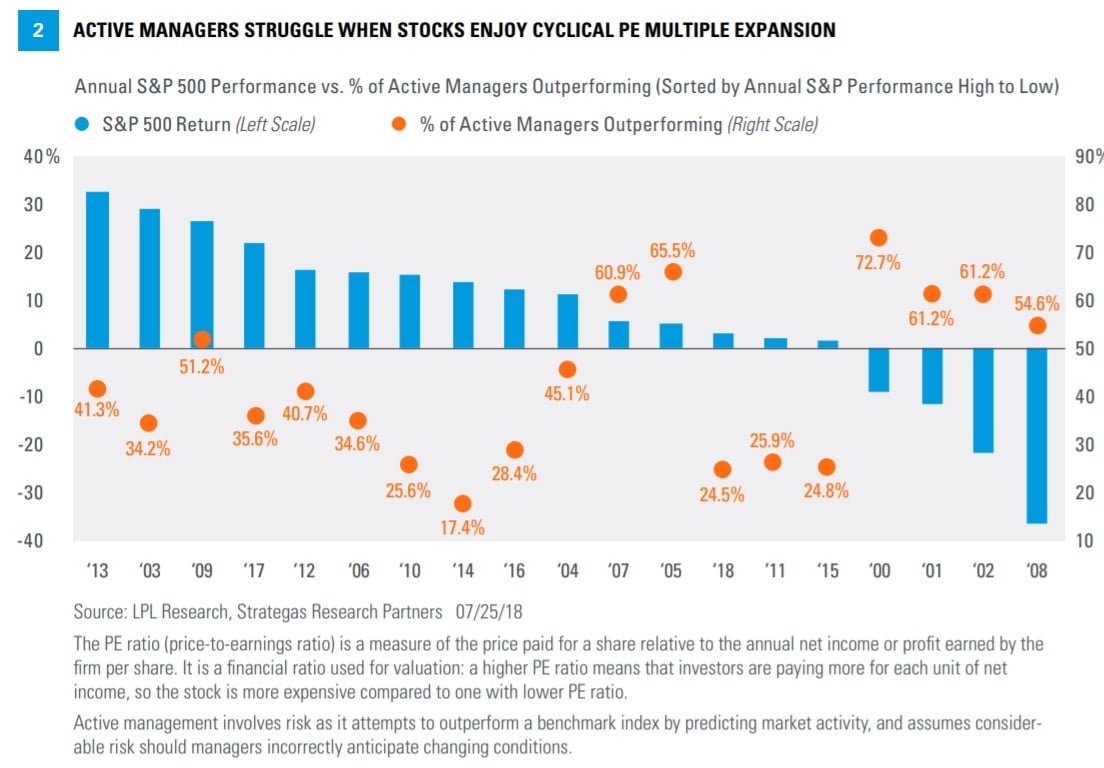 Things aren't so simple when it comes to active vs. passive investing
LPL argues that it could be time for investors to switch back to active funds because the winds of change are blowing. It's important to point out that the firm bills itself as a "leading independent broker-dealer," so the argument comes with a conflict of interest attached. Nonetheless, many of the points made in the report come in line with points made by some of the hedge funds whose Q2 letters we have covered. Essentially, asset managers are watching and waiting for the investor euphoria to die down and the stock market to open up opportunities for active funds to outperform.
Moody's also offered some statistics to counter the numbers from LPL which suggest that active equity funds do better during times of volatility, which has been increasing this year. According to Moody's, active equity funds "did not generally outperform" during the first quarter of this year. Rather, their performance was about in line with their "historical behavior." The firm cited data from JPMorgan which indicated that just 41% of active managers have beaten their benchmark so far this year, compared to 52% last year when volatility was lower.
Here's why the hurt may continue for active equity funds
Even though managers of active equity funds would like to see an end to the trending shift toward passive funds, Moody's predicts that passive investment products will continue to rule the day. Rather than looking at external factors such as central bank policies and other macroeconomic or market trends, Tu and team see the shift toward passive funds as a "low-tech form of technology adoption." They attribute the growing preference for passive investments to customers' desire for "transparent, efficient and lower-cost products, similar to the way a particular technology or innovation diffuses within a marketplace."
The Moody's team also believes retention rates for passive funds among long-term investors will remain high due to the funds' "simpler characteristics." They explained that passive funds require just one decision from investors: a choice between long-term equity exposure or beta. Meanwhile, active funds also take into account "a fund manager's ability to beat the market." Thus, when assessing active equity funds, investors must make a qualitative decision on the manager's ability to generate alpha, and any change to their perception of the manager's ability could cause them to redeem their assets from that fund.
Read on Valuewalk