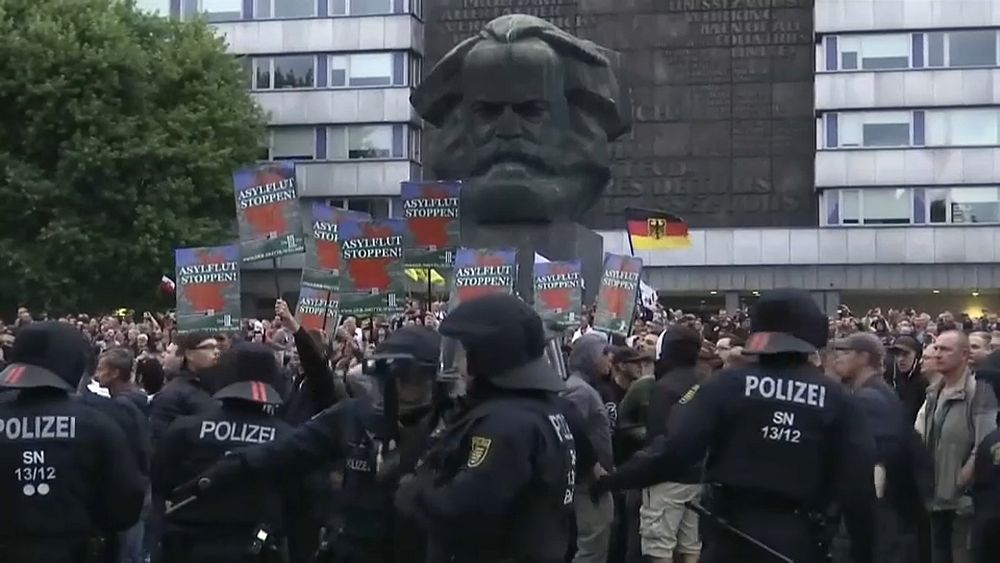 Several people have been hurt as rival protesters clashed in the east German city of Chemnitz.
Pause. Injuries were caused when demonstrators on both sides threw objects.
Far-right activists had gathered in the centre for a second day as a Syrian and an Iraqi remained under arrest on suspicion of carrying out a deadly stabbing on Sunday.
Anti-Nazi activists rallied just metres away, accusing the far-right of using the killing for political ends. There have been reports of foreigners being chased through the streets.
State and local officials have appealed for calm as Angela Merkel's spokesman, Steffen Seibert, said Germany would not tolerate "vigilante justice".
"We don't accept such unlawful assemblies and the hounding of people who look different or have different origins and attempts to spread hatred on the streets. This has no place here in our cities. "
A makeshift memorial has begun to grow where Sunday's murder occurred. The unrest reflects a growing divide in German society in reaction to Merkel allowing around a million asylum seekers into the country in 2015
Read on EuroNews