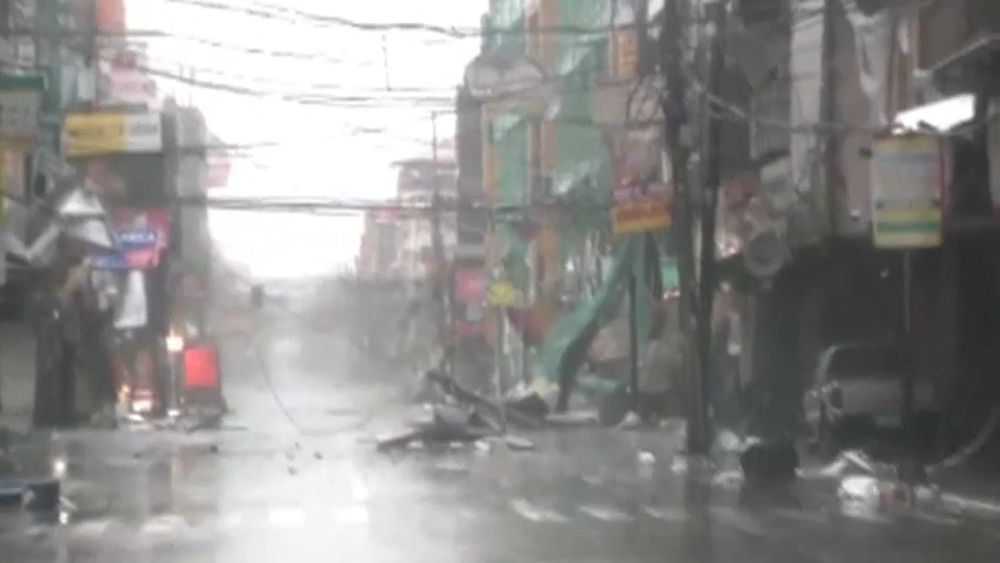 A strong typhoon tore across the northern tip of the Philippines on Saturday, wrecking homes and triggering landslides before heading towards Hong Kong and southern China by evening.
Mangkhut entered the Philippines as a super typhoon in the early hours and ripped over the main island of Luzon with winds of more than 200-kilometers per hour and torrential rains.
Known locally as Ompong, Typhoon Mangkhut left the Philippines and moved across the South China Sea with reduced wind speeds.
Hong Kong was braced for Mangkhut, with authorities expected to raise the second strongest typhoon signal between local time 11 pm and 2am.
The Philippine disaster agency said two rescue workers died while trying to free people trapped in a landslide in the mountainous Cordillera region, while police said a body had been found in a river in Manila.
Mauricio Domogan, mayor of the city of Baguio, said three people were killed in landslides and six were missing. It was not clear if the three dead included the rescue workers.
"They didn't expect it would happen, that's why they didn't evacuate. Unfortunately, it happened," he told DZMM radio.
State weather agency PAGASA downgraded its threat level but warned the danger was far from over, with storm surges and heavy rains that had caused flooding and dozens of landslides across Luzon, home to about half the Philippines' 105 million people.
"We are asking the people to remain alert and continue taking precautions," said meteorologist Rene Paciente.
Rapid response teams were prepared to join the air force on search and rescue missions as civil defence teams scoured areas in the path of Mangkhut, which felled trees and pulled down lines of electricity poles. Signs were seen hanging off shop fronts, sheet metal roofs peeled off and debris was strewn across urban roads.
There was flooding in several provinces and parts of the capital Manila and officials planned to release water from dams, fearing rains could push reservoirs to dangerous levels.
Mangkhut had been a category 5 storm for days since wreaking havoc in U.S. Pacific territories of Micronesia before edging towards the Philippines, where it is the 15th and strongest storm this year.
Airlines in Hong Kong have cancelled hundreds of flights due to the storm, which is expected to come within 200-kilometres of the city on Sunday and wreak havoc on the Asian financial centre and nearby Pearl River Delta.
Hong Kong's flag carrier Cathay Pacific said all flights from the city would be cancelled on Sunday.
In the Philippines, some 105,000 people were staying in temporary shelters after the mass evacuation of coastal areas following major storm surge warnings. Foreign and local aid groups were distributing supplies.
Power and communications were down in parts of northern Luzon, where some residents in high-risk areas chose to ride out the storm to protect homes from looters.
The Philippines is still haunted by the devastation of Typhoon Haiyan, which killed more than 6,300 people in central areas of the country in 2013, mostly due to huge storm surges.
However, disaster officials said the country was now better prepared in terms of evacuating high-risk communities, which had experienced a super typhoon in 2016 and knew what was coming.
"I talked to the president last night. His clear and concise marching order was 'Save lives, save lives,'" said Francis Tolentino, the government's disaster response coordinator and adviser to President Rodrigo Duterte, who was in his home city of Davao in the south.
Read on EuroNews