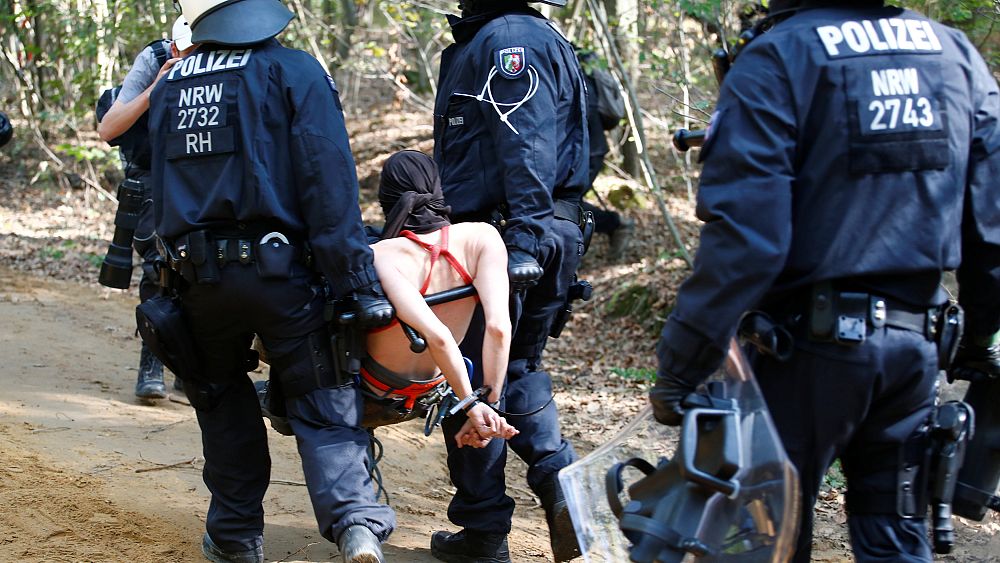 Hambach Forest this weekend, where people have chained themselves. Authorities say the 30 – 60 make-shift dwellings are unsafe. It's over plans to expand the coal mine and to clear around a hundred hectares of the forest.
The protesters have come to symbolize the resistance to the coal mining in the area. Julia Brinner, supporter of "forest defenders" says, "This forest became a symbol. This occupation here has been 6 years so it has become a symbol for resistance against lignite for the fight for better climate."
"Momo" is the speaker for Occupy Hambach Forest and he says, "Sometimes you need to take the risk to go to the forest and to occupy something which is destroying you and the planet. In this case: the coal pit where they are digging for lignite and this is destroying the planet with CO2 emissions.
Police clashed with activists in the week even though the protesters say it's a peaceful sit in, but local residents say it's been rather tense.
Erhard Nimtz is a local resident from Kerpen and says "When we left the forest in a police car, suddenly two masked people attacked us by throwing Molotov cocktails at us. It was a very frightening experience for us."
The tree dwellers were given 30 minutes to evacuate the area on Thursday and they didn't resist and were removed by the police. Cranes were used to reach people sitting in the trees. Authorities expect to take several days to clear the forest of people and the RWE energy company will start to clear the forest from the beginning of October.
Read on EuroNews