Production Of Russian COVID-19 Vaccine Begins As Asian Demand Soars; Germany Sees Most Cases Since April 30: Live Updates

Tyler Durden

Sat, 08/15/2020 – 10:03
Europe and India are the focus of coronavirus news on Saturday as Germany continued to report alarming numbers of new cases while India saw its case total top 2.5 million.
As India's confirmed COVID-19 case total passed 2.5 million on Saturday, health officials reported. Meanwhile, speaking during the traditional Independence Day speech, a major event on the Indian political calendar, Indian Prime Minister Narendra Modi announced that the country is ready to mass produce vaccines as soon as scientists give them the green light, while also unveiling an ambitious project to catalogue the "health identities" of each Indian citizen – quite an undertaking considering India's 1.35 billion pop. That comes after ambitious projects.
In a sign of the desperate situation facing Modi's administration, the soldiers who welcomed Modi to the stage ahead of Saturday's speech had been quarantined for 14 days, and the crowd at the normally packed crowd was reduced to just 4,000 or so guests made to sit six feet apart, according to Al Jazeera.
India confirmed another record single-day jump on Saturday, reporting 65,002 new cases, and snapping a streak of declining confirmations, as the country's total tally hit its latest milestone. Public health officials also reported 996 new deaths, bringing the total to 49,036. India now has the world's third-highest confirmed body count, behind only the US and Brazil.
While the west continues to view Russia's vaccine with skepticism, across East and Southeast Asia, the response has been much more positive. For example, demand for Russia's COVID-19 vaccine from the region is growing faster than anywhere else, as the Philippines leads a growing number of Asian and South American countries in signing up to run clinical trials, or buy supplies of the vaccine from Russia, according to a report in the Nikkei Asian Review.
Russia reported another 5,061 cases, bringing its nationwide tally to 917,884, the 4th-highest in the world behind the US, Brazil and India.
119 new deaths were also reported, bringing Russia's death toll to 15,617, a number that some COVID experts have disputed.
Russia also officially announced Saturday that production of its vaccine, which would be limited to health-care workers at first, had finally begun, although the vaccine can't be distributed for general use until January.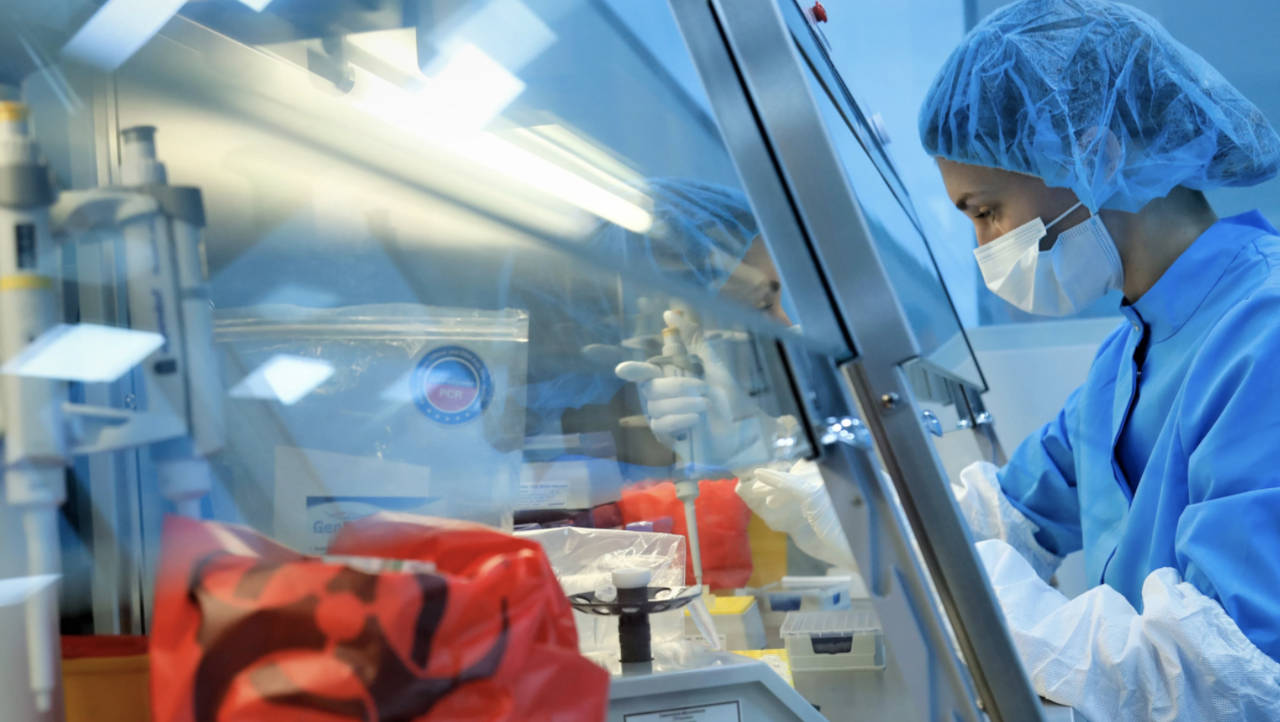 As fears about a second wave in Europe intensify while the UK, Germany and others hastily reinstate some travel restrictions in response to isolated outbreaks in Spain, France, the UK and even in its own backyard.
On Saturday, Germany reported 1,510 new coronavirus cases, its biggest single-day number since April 30, according to the Robert Koch Institute data (Germany's "official" numbers. Total cases rose to 223,791, while 13 new deaths were reported, a number roughly in line with figures seen through August and July.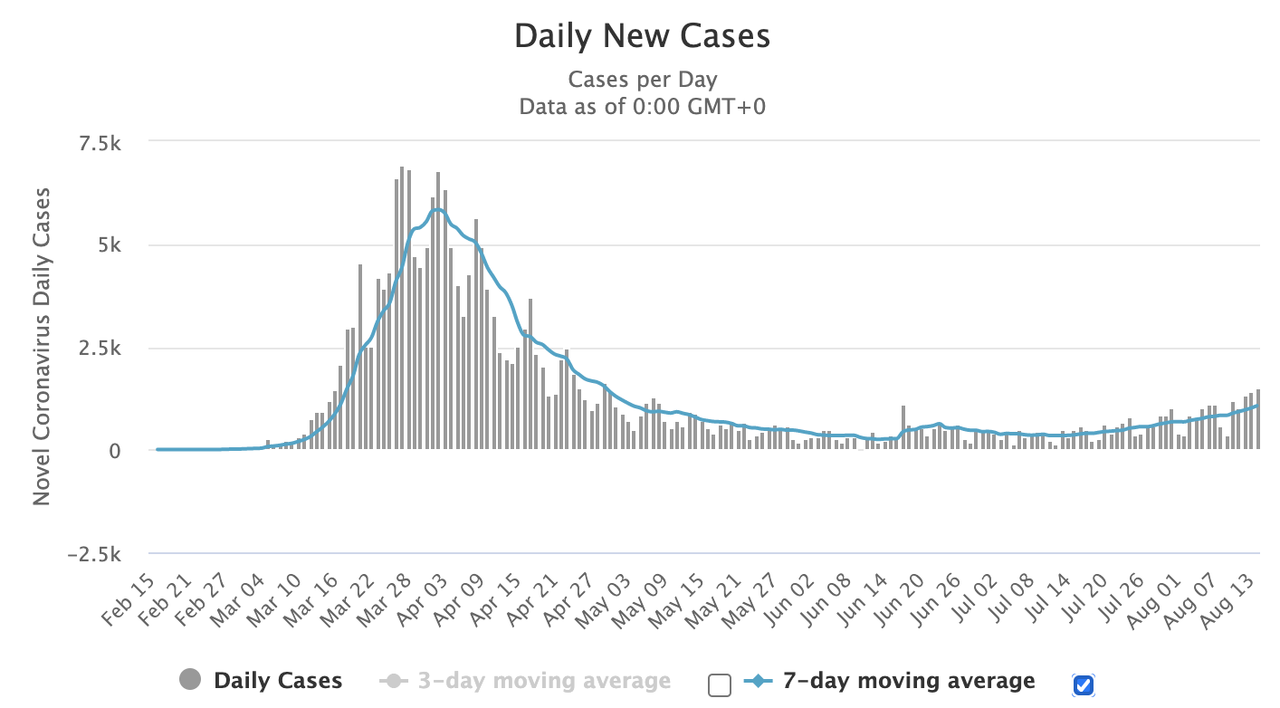 Germany's 4-day viral-reproduction figures – represented as "R" – hit 1.08 for the prior day, north of Germany's "1" red line (1 is the threshold above which the virus is considered to be expanding). The 7-day figure, seen as more stable, was even higher, at 1.14 on Friday.
Hong Kong reported 46 new coronavirus cases Saturday, including seven that had a travel history and 12 of an unknown origin, according to Department of Health official Chuang Shuk-kwan. The city's worst outbreak has been showing signs of abating as local infections have remained below the 100 level daily since earlier this month, per Bloomberg.
Tokyo, meanwhile, topped 300 for the second straight day on Saturday, with the capital megacity's new infections totaling 385 for the day, down slightly from 389 from the day prior.
In Australia's troubled Victoria State, the epicenter of what's currently the biggest outbreak in the antipodes, reported 303 new cases and four deaths over the past 24 hours on Saturday. Fortunately, the number of new cases has been trending lower since the state recorded 725 new infections on Aug. 5. On Friday, the state saw 372 new cases and 14 deaths in 24 hours. Meanwhile, nine new cases were diagnosed in New South Wales, its health department said on Saturday, one day after the release of a special commission report on the disastrous "Ruby Princess" incident. The latest numbers brought NSW's total cases to 3,756.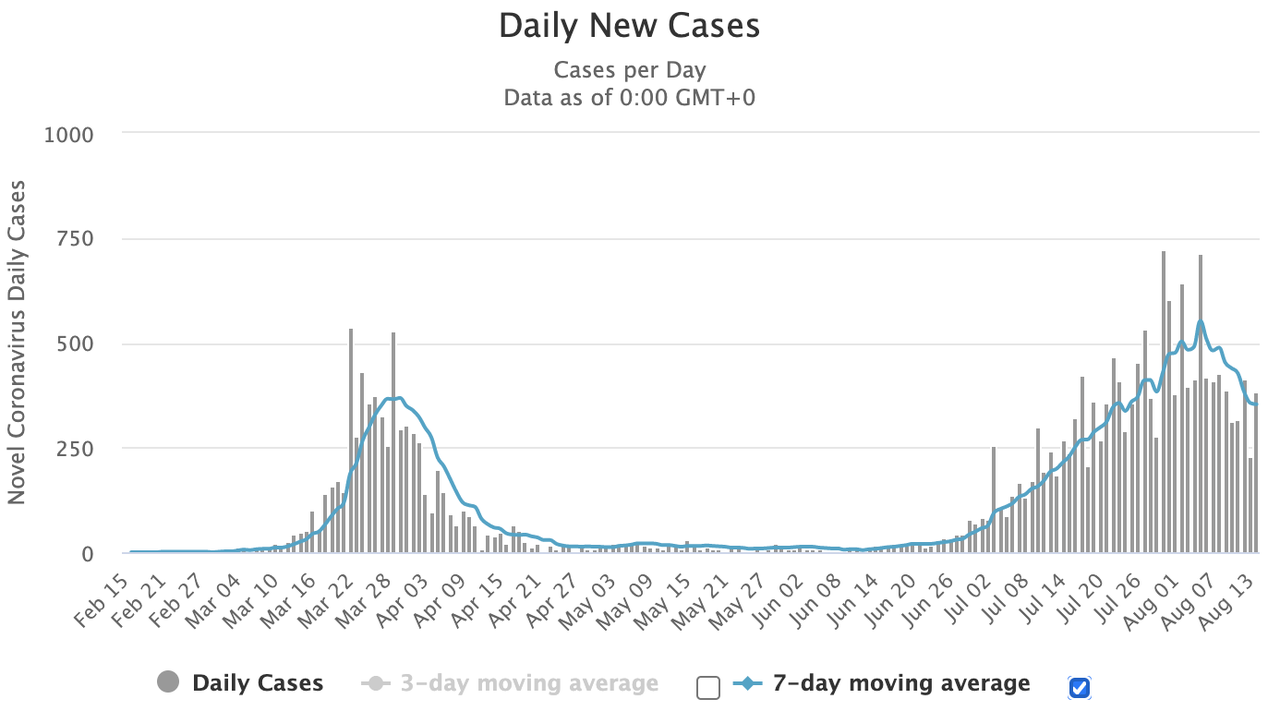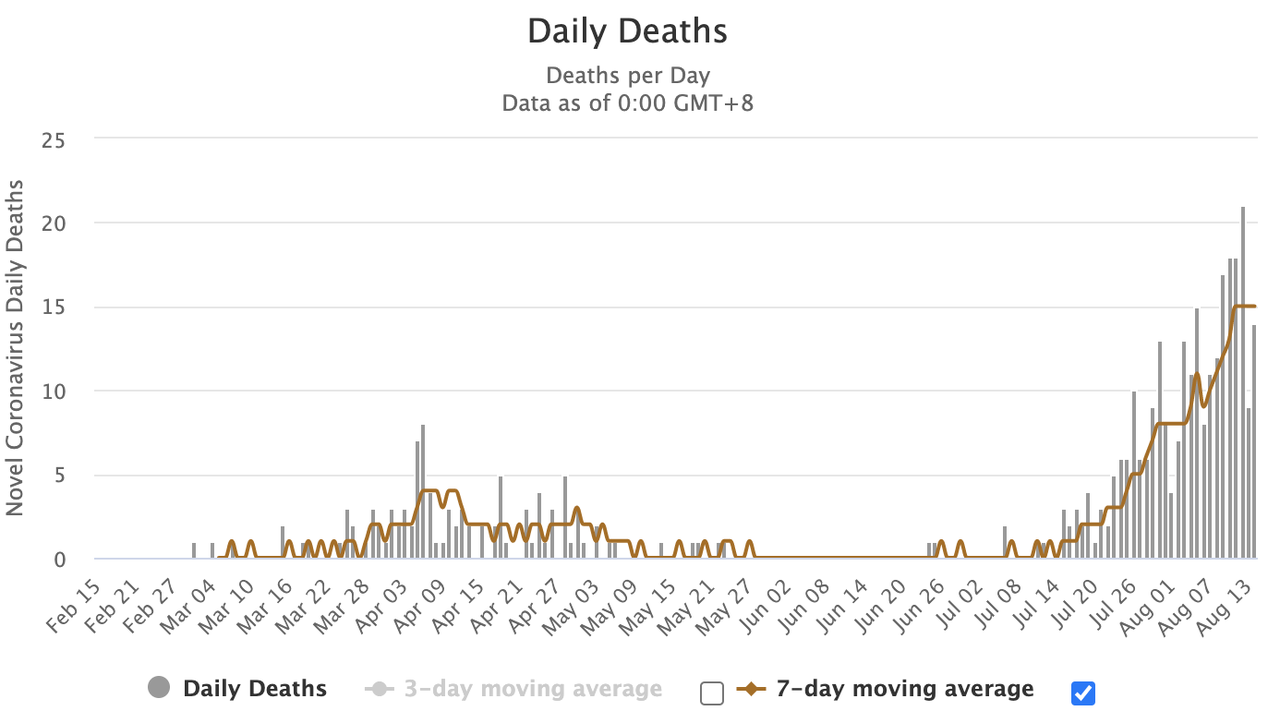 Circling back to the numbers out of the US last night, Texas's daily virus deaths topped 300 (exact total: 313) for the second day in 3 on Friday, while hospitalizations continued to decline for a third straight week. Texas now has 9,602 deaths, leaving it right on the cusp of 10,000.
The state reported 313 virus fatalities Friday, bringing the total to 9,602. Hospitalizations fell to 6,632, down from more than 10,000 in late July.
California became the first US state to top 600,000 confirmed infections late Friday after reporting another 7,934 new cases bringing its total to 601,075.
Yesterday, Cali Gov. Gavin Newsom said that roughly 90% of the state's K-12 students will begin the year with distance learning, but in-person instruction could resume "soon" if daily COVID cases continue to trend lower.
The new cases included 4,429 from a lab-reporting backlog of prior days and 3,505 new daily infections, Governor Gavin Newsom said in a briefing Friday. That's well below the 14-day average of 7,678.
Finally, health authorities in Brazil reported a silver lining on Friday evening, with Brazil reporting just 50,644, down from 60,091 the prior day, for a total of 3,275,520.