47% Of Biden Supporters Will Vote By Mail; 86% Of Trump Votes Will Be In Person: What This Means For The Election

Tyler Durden

Mon, 10/19/2020 – 14:14
Perhaps the most notable observation from the latest Bank of America Fund Manager Survey is the finding that 74% of respondents believe that a contested election is the biggest reason for volatility in 4Q, and that 61% of Wall Street professionals believe the election will be contested.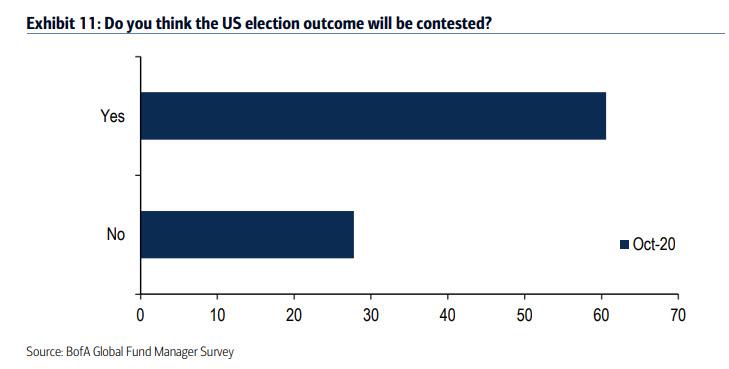 Consistent with this, 44% of respondents in a parallel survey targeting FX and Rates investors found that 44% of respondents expected uncertainty to linger for up to a month if not longer—still a considerable share. Yet even as the market is setting up for the possibility of greater volatility, it now appears that the consensus is leaning toward the more benign outcome as recent volatility measures have come off the highs.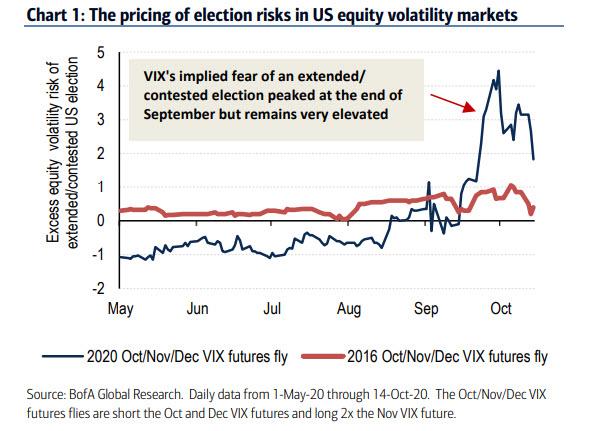 Despite the easing of market nerves about the outcome of Nov 3, it remains a distinct possibility that we don't have a result of the election on November 4th according to BofA, which notes that the economic implications of the election will depend on the reason and duration of the delay. There are three distinct scenarios:
Benign: Results are delayed due to counting backlogs given the large number of absentee and mail-in ballots but a result is expected within days.
Painful: If the count is close, it could result in a dispute about ballot validity and lead to a recount at the state level.
Crisis: Either side refuses to accept the results, leading to a legislative battle and a high degree of government dysfunction.
Here, the biggest wildcard will be state mail-in ballots, with BofA chief economist Michelle Meyer writing that "states could have a challenging time working through such a large number of mail-in ballots." Furthermore, rules also vary by state in terms of when the ballot can be sent and counted, which is why the ultimate outcome of the election may not be known for days, especially if battleground states are late on counting all the mailed-in votes.
While the most common state deadline is on Election Day when the polls close, some states will accept a mailed ballot if it is received after Election Day as long as it is postmarked prior. The rules differ in terms of when the ballots can be counted. Some states do not allow mail-in ballots to be opened before Election Day which could mean counting delays. This includes a few of the critical swing states – such as PA and WI. Moreover, mail-in ballots may be contested for signatures that don't match voter registration cards.

As BofA warns next, a key risk is that the lead in the race swings back and forth between Democrat and Republican candidate depending on what kinds of ballets are being counted. A recent WSJ/NBC poll found that 47% of Biden supporters plan to vote by mail whereas 86% of Trump supporters will vote in person. Indeed, according to the US Elections Project website, there have been just over 15 million ballots returned and of the states that identify party affiliation, 57% were Democrats, 24% Republicans and 19% no party affiliation.
As these votes are tallied, Meyer predicts that this could "potentially give a lead to Biden, then in-person voting could swing the election toward Trump,  then Biden could again regain ground as officials work their way through remaining mail-in votes."
In other words, "political analysts may not feel comfortable calling the winner despite the data on hand." Ultimately, depending on allegations of voter fraud, Trump may contest the election and escalate it all the way to the Supreme Court, in a rerun of Gore vs Bush. How long that particular process lasts is anyone's guess.