Chinese President Xi Jinping, South African President Cyril Ramaphosa and Macky Sall, president of Senegal, the incoming African co-chair of the Forum on China-Africa Cooperation (FOCAC), are briefing the media on the results of the two-day summit.
Get The Timeless Reading eBook in PDF
Get the entire 10-part series on Timeless Reading in PDF. Save it to your desktop, read it on your tablet, or email to your colleagues.
Q2 hedge fund letters, conference, scoops etc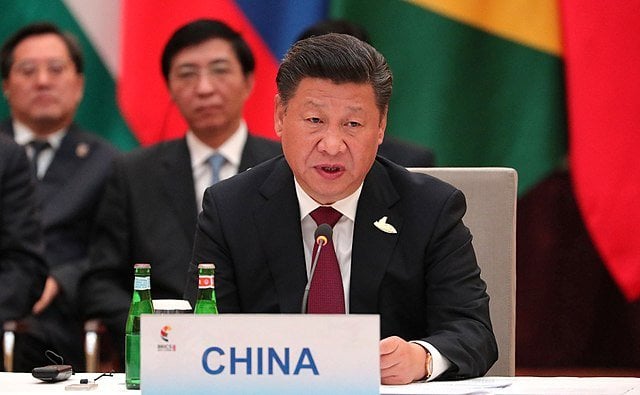 Xi: China-Africa Cooperation To Go 'Hand In Hand' In Coming Years
[youtube https://www.youtube.com/watch?v=JxqW6vilsyk?ecver=1]
Transcript
Your Excellency President Marta Mollah Cyril Ramaphosa Excellency President Macky Sall a friends from the press. Ladies and gentlemen good afternoon. It is a pleasure to meet you on the show. First of all it is a pleasure to announce that the 2018 Beijing some of the folk Hogge has just successfully concluded in the past two days leaders of Folketing members gathered in Beijing on the theme of China and Africa towards an even stronger community with a Shared Future mention her or her revealed implementation or the outcomes of the 2015 on things that are far discussed plans for future growth of China relations and draw the blueprint for China foreign operation to go ahead. While the summit showed that the Beijing liberation toward an even stronger China Africa community a shared future which embodies the agreement reached between China and Africa on major international issues and sends out a strong message that China and Africa will go hunting for years to come this summer. Forum on China because operation action plan identified eight major initiatives the arts has to focus on China-Africa Cooperation in the coming three years to strengthen practical coordination across the board. We lead the world is undergoing Fownes changes seen in this century economic globalization is deepening an increasingly motive the world. The future holds. People has never been so closely linked. Meanwhile mankind faces list of common challenges as such and destabilizing factors continue to mount. China and Africa will join hands to build a China Africa community with a shared future features joint responsibility. Operation happiness from common cultural prosperity and common security and Monique's coexistence hallway together we will pledge to uphold the interest of China.
Those are the strengths of developing countries and we make the world more balanced and a better place for everyone to live in. This will set a good example for the building of a community with a shared future for mankind. Our Times. We agree that China breaking relations would have stood the test of time and internal changes and embark on a distinctive part of winkling cooperation from China. Afriqiyah relations are at their best in history from the two sides from building homes synergy building strategies and policies sieging bungs China-Africa Cooperation under the Belt and Road Initiative. The strengths of this initiative which straddle the Agenda 2063 a new UN 2030 Agenda sustainable development and national development strategies of African countries. From there the focus will be on the implementation of eight major initiatives namely Industrial Promotion Infrastructure Fund Timothy trade facilitation brain development capacity building and 3m people to exchange and peace and secure.
Read on Valuewalk